Cloud Based Call Center Solutions
---
Improve your Customer Experience with our Call Center Solution
Minimum 5 Users
5 Concurrent Calls
8 Auto Attended IVR
Hotline Number
Inbound Calls
Outbound Calls
Ring Group
Queue Group
Remote Agents
Automatic Call Distribution
Time-based Call Forwarding
Custom Music on Hold
Call Recordings 500 mins
Ticketing Features
Call Notes, Call Tagging
On Site Support
24/7 Remote Support
Monthly Report
IP Phone
Call Center Headset
GSM Trunk
Extra Call Recordings
Extra Concurrent Calls
Minimum 2 Users
5 Concurrent Calls
16 Auto Attended IVR
Hotline Number
Inbound Calls
Outbound Calls
Ring Group
Queue Group
Remote Agents
Automatic Call Distribution
Time-based Call Forwarding
Custom Music on Hold
Call Recordings 1000 mins
Ticketing Features
Call Notes, Call Tagging
On Site Support
24/7 Remote Support
Live Wallboard
Call Report Dashboard
Supervisor Dashboard
Monthly Report
API Integration Support
IP Phone
Call Center Headset
GSM Trunk
Extra Call Recordings
Extra Concurrent Calls
Data Analytics Call Center Dashboard
---
Discover up-to-the-minute call center metrics and key performance indicators (KPIs) from the central call center Wallboard. All data are auto-calculated in real-time, daily, weekly, or monthly interval for your in-depth call center monitoring, management & optimization.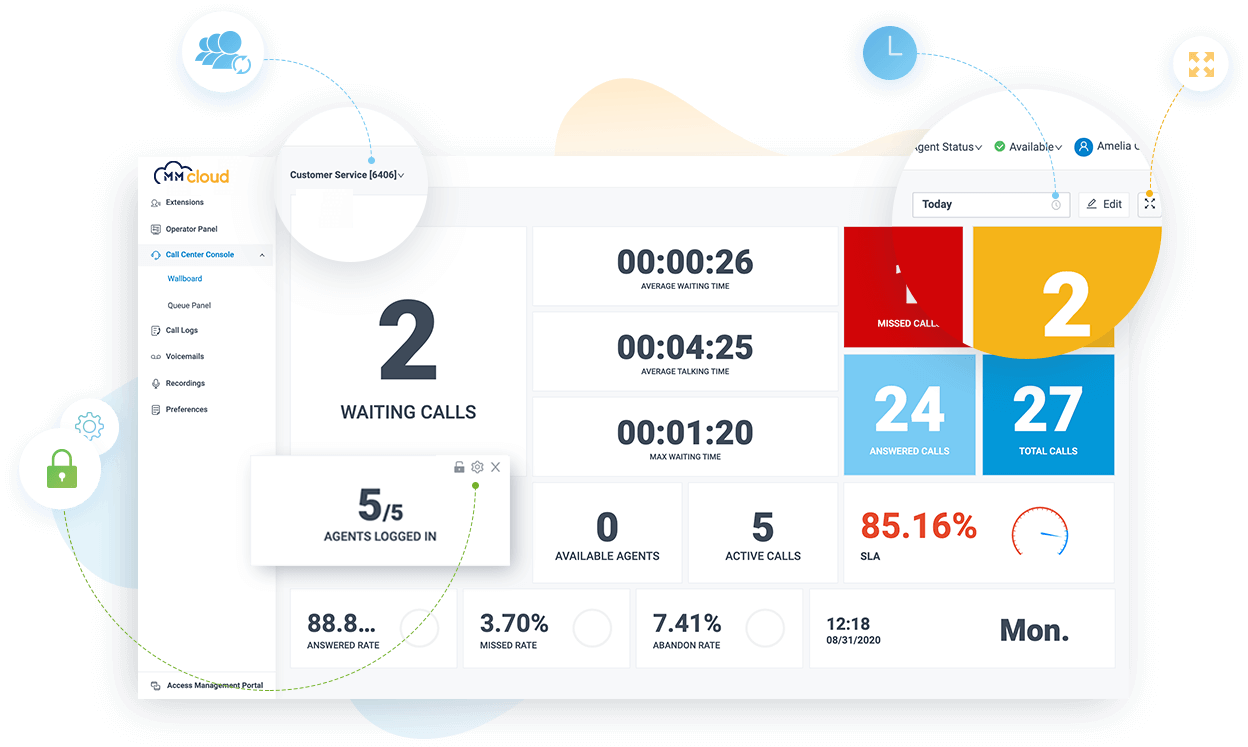 16 Key Performance Metrics
Real-time Monitoring
Flexible Calculation Time Frame
Customizable Widgets
Multi-screen Display
Connect customers with the right agents at the right time. Take advantage of advanced automatic routing, 6 pre-defined ACD queueing (ringing) strategies, customizable IVR options and more features that drive faster call resolution.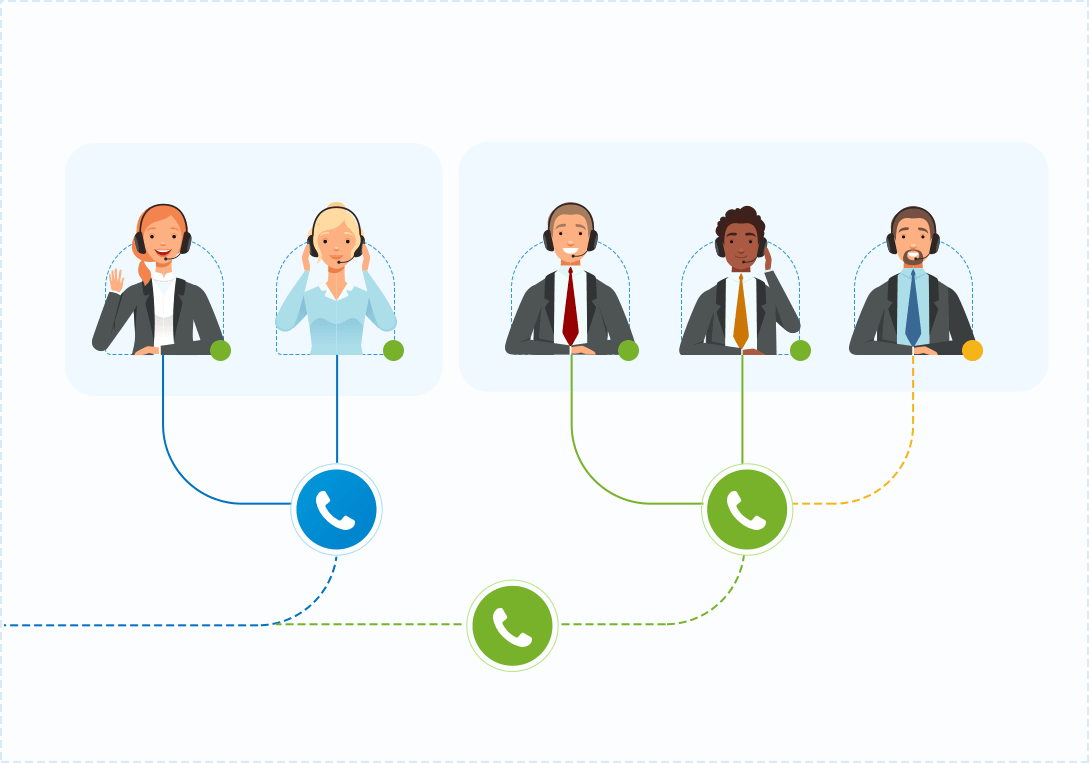 Time-based Routing
Choice-based Routing with IVR
ACD Queuing
Simultaneous Call Distribution (Ring All)
Fixed-Order Call Distribution (Linear)
Rotary Call Distribution (Rrmemory)
Provide all the tools your agents and supervisors needed in one single interface. The dynamic, streamlined Queue Panel makes it easy for you to monitor queue traffic, check & switch agent status, and quickly conduct call operations like transfer, monitor, parking – within drag & drop or a simple click.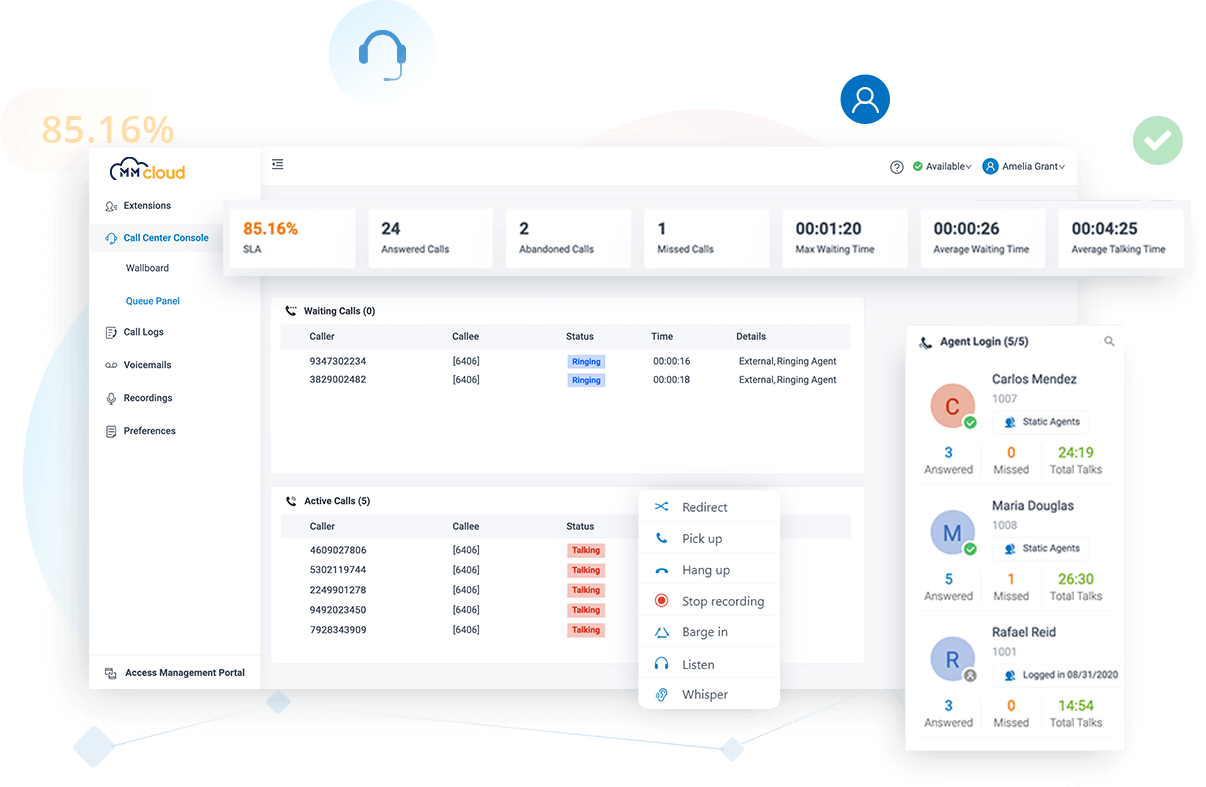 Drag & Drop Call Management
Visualized Active & Waiting Calls
Complete View of Agent Status
Real-time Queue Metrics Display
Role-based Feature Access Control
Available Products for your Call Center Agents